This location is one of earth's most special places. "GKT's Flotatation Tank" 太太 calls it. Not a soul along this tranquil stretch of waterfront of Barbados. We swam with giant sea turtles who were tame enough not to be frightened plus the locals are strong protectionist with their Rastafarian faith.
J & T flew in 5 hours from New York.
太太 discovered it was J who sold Victor 40 Broad Street in NYC years ago.
太太 remember distinctly because he asked "Why can't you find deals like this?". The bar was set high from the start.
R & I who travelled 31 hours from Hong Kong
And they picked up parts for the Morgan here, from London (LHR). Pretty impressive. Not only excellent foodies but serious oenophiles as well. Interesting conversations always. Dressed elegantly in Jimmy Choo strappy heels petite I announced " We are exhausted. Delayed at Gatwick. " With that we started with introductory rum punch, then continued on with champagne, wine, ...
Twice we were hosted by Aj in a private residence that was leased by Simon Cowell for $1 million over Christmas 2008. 20 full-time staff keep the place going. Generous Ajmal shared various Petrus with us from the collection of wines he has been accumulating. Yummm... 太太 was gobsmacked. If you would like to rent this place, let us know, we'll put in a good word for you :-) >> TOUR THE HOUSE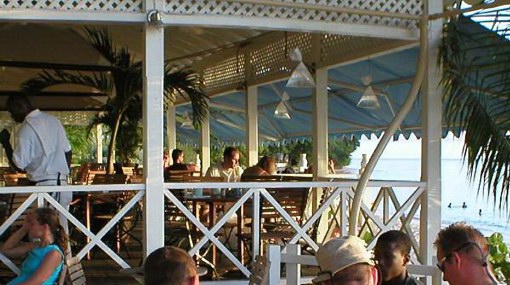 Lord A at one end of the beach and Greensleeves at the other end. The latter being founder/inventor of tetrapack. Can you imagine if he makes just a penny for each tetrapack in the world? Upon arrival G.K.T. Philiathes was anxious to be the perfect host, and offered to walk me along the beach to a location not far away where we would dine in the evening.
Although brilliant on any subject on earth be it composing music, corporate tax, technology genius...whatever, this rocket scientist forgot about the tide coming in at twilight and good thing 太太 had taken off her jewellery as we ended up with wet T-shirts splashed along a shallow waterline. Hahaha... What a brilliant introduction to Barbados!
太太 was in a good mood after a grzzz Err Canada (no water in all loos across the county) flight.

太太 was 'let off" [i.e. the smallest bill of the entire trip] with being 'allowed' to host Flying Fish with deep fried breadfruit for lunch on the Atlantic ocean part of the island one day.
Around 90 turtle eggs are at the foot of GKT's property. In around the end of September we pray for birth of a healthy brood of sea turtles. How auspicious that this event took place while these great minds where exchanging ideas. What an invigorating business lesson!